Happy WIAW!!!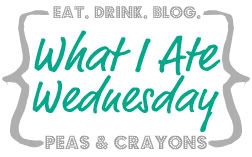 My work schedule changed yet AGAIN, but now I have a normal day-to-day rather than noon-7p. I thought it would be easier having the morning to get things done and just come home and relax after work. That never really worked and I was always running behind. So now I can function normally and get back to a balanced life.
Yesterday for breakfast was my normal yogurt bowl with some flax granola and strawberry slices.
This was filling, but I still wanted a little something for a snack after. I had a mini Luna in my purse so I had that on my way to work.
Once I got to work and had a few hours on my feet it was time for lunch. I had packed a PB on a wheat thin with honey and raisins and hit the spot, but only briefly.
I had some cottage cheese and jam to go with it and it wasn't all that great. Luckily, just in the nick of time we had a Jimmy Johns handing out mini sandwiches so I opted for the veggie.
I've come to the conclusion that if a chain restaurant says "veggie" that means lettuce and tomato with maybe a cucumber. I was disappointed in this little guy, but it was free so I'm not going to complain too much. Now I know what their "veggie" means.
After work I hit up BodyPump and was really surprised at how packed it was. Definitely more crowded than the gym Monday morning. It was still a good class and worked up my appetite.
I came home to a quick protein shake while I heated up dinner.
Ella was curious about my snack and I gave her a treat because she's so cute;)
Once my appetizer was done it was time for dinner.
I couldnt' decide on which leftovers to have to I just had them all. Hoppin' John, collards, and BBQ with a piece of bread that didn't make the pic.
It was a pretty good food day, though I could use some more veggies. Oh well, there's always today to do better!
Did you eat lots of veggies yesterday?