This WIAW I have dedicated to my 2 favorite burgers I've had in the past week. Yes you heard right 2 burgers 1 week. I love them! Oh, and I had ice cream for dessert after too, so there(tongue sticking out)!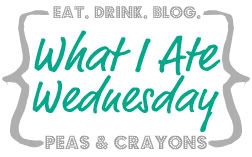 I love cheeseburgers! Beef, turkey, veggie, it doesn't matter. If it's in the form of a burger I will eat it(organic meat only please;).
There's something so American and comforting about enjoying a cheeseburger with friends either in someone's backyard or in your favorite greasy spoon.
I like the plain ole condiments like mayo, mustard, and ketchup, but I love to get chili, slaw, or something non traditional too. When I do get something nontraditional I want to eat it in an unpretentious setting. I don't want to eat in a "burger boutique"(unless I"m not paying, then it's fine;). I want my server to have a tattoo or piercing and not be annoyed they're working because they love burgers too.
I prefer to have my burger meat grinded on the spot with local beef or turkey and if I'm getting a veggie patty I don't want it to be frozen from a box I could have got myself. I want it made in-house.
As for my side if they have sweet potato fries I'll go straight for those. Usually places don't, so I get tots then fries if there isn't any other choice that doesn't cost $3 extra. Never a side salad. If I eat a burger with you and you order a side salad I will get up and leave you with the bill. That's just crazy!
My dad makes the best burger in the WORLD in my opinion. They are "Ted burgers" and I wish you could have one. They are made with love and a pat of butter in between two all beef patties. MMMMMM…. But since I'm in ATL I will settle on what we have here which isn't all that bad;)
My favorite place to get a burger in ATL is Grindhouse Killer Burgers. The Sweet Auburn location is my favorite because it's a diner counter in a farmer's market, but the Piedmont location has the "Dixie Style" which has pimento cheese. It's very tense for me when deciding where to go. haha
Where/How do you like your burgers?