Yesterday I came to a scary realization, I may potentially become a bag container lady.
Ninety percent of the time I take breakfast and lunch to work. As well as a snack. So with all the food I carry in one day I'm in the market for a new lunch bag that's big enough to carry all my meals.
I've had my Vera Bradley bag for a long time and it's been a good bag, but it's time I graduate to one that zips. More so I can stuff as much food into it as I can and don't have to worry about the velcro holding.
I don't know why I need so much. It's really ridiculous. But it's just in time to give you an example of what all I carry for WIAW!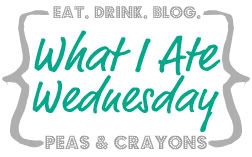 My day started off with an espresso with steamed almond milk and Splenda made, with love, by Travis. He's the best!!!
I had greek yogurt for breakfast with a cup of Kashi warm cinnamon oats.
After downing my yogurt I took a gander of the nutritional facts and almost fell out of my chair.
HOLY COW! I'm all about sugar, but damn! If I knew I was going to be having that much sugar I would have liked it to be in the form of a warm, sugary pastry not yogurt. I know now not to add the entire portion of honey and only half, then I won't feel as bad.
Lunch was a concoction of randomness that I threw together on my way out the door.
Left over farro, chicken, broccoli and corn. It wasn't too bad, but it was missing a lot of flavor. It was on the bland side and salt and pepper weren't doing the trick.
For my snack I had a peanut butter Luna bar that had been sitting in my desk for I don't know how long. It still tasted really good, but I should really keep better track of food at my desk. I don't want to be a container lady and food hoarder.
I didn't make it to BodyPump in the morning so after taking Harper on her walk I headed to the gym for a major ass kicking. I really love BodyPump, but we did a lot of new workouts on our upper back and hamstrings and all I wanted was water and a stretcher.
When I got home I made a quick protein shake and sipped on that while making a peanut butter raisin wrap, banana slices and popcorn.
Travis had football so a gourmet meal was not in the plans. If it's dinner, party of one you better believe I'm making a bowl of cereal or something involving peanut butter and bread;) I can't be in front of the stove when there's Rachel Zoe to watch! And Ella needed some cuddles so we hung out in front of the TV the rest of the night;)
What is your favorite party of one meal?