YAY for WIAW!!!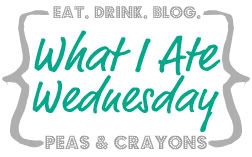 Yesterday was full of grains and beans for this girl.
For breakfast I heated up some leftover oats from a few days ago with some almond milk and a ton of strawberries that I needed to use up before they started getting fuzzy. I love a good sale on berries, but the downside is making sure to eat them lickity split or you have a science experiment on your hands.
I snacked on an unpictured Larabar, pecan pie flavor, a couple of hours before lunch which was a protein packed salad I made before work, hummus, and some pita chips. I wasn't sure if I would have enough, but this meal kept me full for a long time.
Tuesdays are my late days at work and I don't get home until around 8-8:30 so I try to keep dinners pretty small. I made another helping of the lunch salad, but didn't take a picture. No need to see the same meal twice in one post right?
Now that it's getting hot I'll be keeping hummus and cold bean salads in the fridge more often. I'm not into hot meals in the summer for lunch and prefer the grab and go in the warmer seasons.
Lactose Experiment
This part of today's post may be a little TMI, but I figured I'd share anyway. It's my blog and I'll talk about my gas if I want to, that's right, I'll be discussing flatulence folks;)
I love dairy. Yogurt, cheese, milk, ice cream, etc. I can't get enough. My body, however, doesn't exactly feel the same way and has been giving me more and more signs that it's not feeling the love. I've always been a fast eater and never thought anything about how my stomach would bloat up after meals. It was never unbearable and went away after about an hour so I thought, "who cares, this is normal for me".
I didn't start noticing any differences in bloating after meals with or without dairy until it started effecting my vanity. You heard right. I didn't start paying attention to my uncomfortable gas, the trips to the bathroom after a treat of Nesquick, or stomach cramps until I started breaking out.
I mentioned a few weeks ago about blemishes and how not to pick at them. Well, another indication of my lactose problem was where my breakouts were. My cheeks were non stop breaking out and I originally thought it was my allergies and the extra phlem in my lungs. This could have been the case, sure, but that mixed with the stomach issues wasn't adding up.
After some thought and going over everything that it could be internally I came to the conclusion that I may have a sensitivity to lactose or something like casein that's in dairy. I use almond or soy milk in my coffee and protein shakes but the rest of the day is filled with cheese or yogurt.
One day I tried the experiment and laid off all dairy. I felt fine with no bloating but knew one day wasn't going to do the trick. The next day I had cheese and yogurt in the evening without even thinking about it and my body totally hated me. I was immediately uncomfortable and had major gas( I warned you). Luckily I had just stocked up on all my non-dairy milks so I was ready to go lactose free for real this time.
So far I've not had any issues, but we're only on day 2. I'm hoping it's just lactose and not a combo of lactose and something else. I thought about going gluten free too, but didn't want to be too crazy. For at least 10 days I'll be lactose free to see how I feel.
Wish me luck!
Do you have any sensitivities to foods?