The weather in Atlanta has been a touch bi-polar this week.
Last week was pretty cold and this week it's rainy and pretty warm. I'm not complaining about the warm, but I'm sure this contributed to my not feeling well the other day.
Thank you all for the "Get Well Soon" wishes, it's really helped! Also, thank you for the new job comments. I'm really excited to start this new chapter!
Now to WIAW!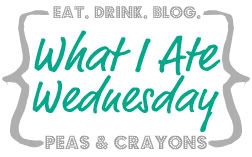 Breakfast
I've tried to be better about incorporating more fruits in my diet so my breakfast I started off on the right foot.
If I had known the weather was going to be warmer I would have had cold cereal, but this was perfect. I made a huge batch of this porridge ahead of time to heat up in the mornings and it's almost gone. I added blueberries, dried cranberries, walnuts, almond milk, and honey. (Recipe is below)
We were out of coffee so I made a cup of green tea.
I'm not one of those people that swaps tea for coffee and it has the same effect. I need my coffee everyday, but I keep this Yogi kind on hand and prefer it over other green teas.
Lunch
In keeping with the fruit theme I opted for a fruit smoothie from Arden's Garden.
In this I had pineapple juice as my base with blackberries, strawberries, bananas, and raspberries. I had some hummus and pita chips to go with it, but I was running errands and didn't think to take a picture. And my car is a "No Phone Zone" while I'm driving so it wasn't going to happen. (Ok, so I realize I was eating and driving, but I'm not perfect don't hate me!)
I love these smoothies,  and this is my 2nd in the past week. If they weren't $5 a pop I'd get one twice a week, but I'm better off making them myself and saving $.
Dinner
After the gym I came home to make dinner for one. Travis was working late so I made some asian brussel sprouts and asparagus(recipe to come), whole wheat farfalle with light alfredo sauce, and a side of grapes. I know the grapes may seem random, but it's part of the fruit them right? And they're my favorite!
The alfredo sauce I used was the new Classico Light Alfredo Sauce I got as part of the Foodbuzz tastemakers.
I love alfredo sauces but usually serve them on the side of my meal because they're too heavy. I don't like sauces to over power the dish and a lot of alfredo sauces do just that.
When I received this sauce in the mail I wasn't sure what to make, but just decided to go plain and add it to pasta just in case it was too heavy. I didn't want to dump the jar into a lot of veggies and it be ruined so sticking to whole wheat pasta was the plan.
I was pleasantly surprised at how light the sauce was and will try it next time with shrimp or chicken. It's just the right amount of creaminess and not heavy at all.
Do you have any foods you need to get more of in your diet?
Fall Morning Porridge(adapted from Eat, Live, Run)

serves 4-6
1/2 cup steel cut oats
1/2 cup quinoa
1/4 cup pearl barley
1/4 cup oat bran
1 T ground cinnamon
1/2 tsp salt
1/2 cup dried cranberries(or whatever dried fruit you want)
5 cups water
Combine all ingredients in a large pot and bring to a boil. Reduce heat to simmer, cover, and let cook until very thick.

Remove from heat and serve right away or keep in the fridge to serve for breakfast the next day.