Happy Thanksgiving Eve and WIAW!!!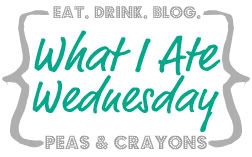 I woke up with the worst headache in the world. I've been so busy
baking
and getting
ready
for the weekend that I didn't drink enough water yesterday and am super dehydrated.
 Today I'll be super conscious about staying hydrated since tomorrow's the big race! I say race but I don't care about my time or being competitive. Last year I was passed by a man with prosthetic legs, so I knew I was a beginner.
Since we're eating what we have left my meals were more protein and carb based. I used most of our fruit in the muffins and we have no more veggies.
Breakfast
After BodyPump yesterday morning I really wanted a huge protein shake so I doubled my serving and drank it out of a big Ball jar. Fancy huh?
I also had one of each muffin and was super full. I don't think I'll double the protein again, it was too much and I felt bloated for a couple of hours. *Please excuse the coffee table mess, it has since been cleaned.
Lunch
I didn't get hungry again until after 1:30p and I didn't crave anything. I was out running errands and almost grabbed a Lean Cuisine from the freezer in CVS but I had left my wallet in my car so I figured it wasn't meant to be.
When I was walking to my car I realized Trader Joe's was right next door and went there instead. I was so glad that happened because I found this gem.
This was only $1.99 versus the $4 I would have spent on a Lean Cusisine. It didn't look quite like the box, but it was super delicious anyway.
I enjoyed my little pizza as my last lunch at a cube, FOREVER!!!! I think that added to the flavor;)
Dinner
Between the pizza and the shake I wasn't too hungry the rest of the day, but I did snack on another muffin while I baked the Thanksgiving pies. Once Travis got home I made myself a bowl of cereal with some blueberries.
I know it's not the most amazing dinner, but I'd been cooking for 2 days straight and needed a break. Cereal for dinner is great sometimes, it's easy and good.
 I finish my last work day at noon then I'm off to have lunch with Travis before we pick up our race packets and check out the expo. Then the rest of the day will be spent relaxing and updating my playlists on my shuffle. I will also make sure it's fully charged. Last year I got to the start and it hadn't charged so I was without music for the entire 13.1 miles. It sucked for sure!
How are you spending your Thanksgiving Eve?